Play Drums and Percussion Now!
"Welcome to Play Drums Now! I made this site to help drummers have more fun, by easily advancing their skills on the drumset. I want to help the overall drumming community connect further and advance further. Enjoy!!"
– Adam Randall, drummer / instructor
Drum LESSONS

Drumset coordination
Grooves, fills, songs
Drumming sport-style
FREE resources + ebook
Looking for introductory drum lessons?
You've arrived at the right spot, most of the content here is free!   Learning how to play drums online can be lots of fun and even life-improving!   There are tons of free lessons and training books here, to help you gain drumming skills fast.   It's easier than you might think to learn to play drums with songs, and it's a blast learning all the basics of drumming!   This site has been geared toward helping drummers achieve rapid success since day one.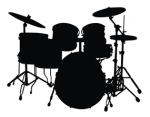 There are plenty of useful resources here that don't exist anywhere else.   These innovations are super useful, and have been field tested in a drum lesson atmosphere, by instructor Adam Randall.   Visit the drum lessons page for free articles, videos, and downloads for drummers and instructors!
What style of music would you like to play drums to?
Each genre of music has its own style of drumming, which is easy to hear in styles like blues, reggae, and heavy metal, for example.   But fortunately, when learning each style, the skills tend to cross over well – all styles of drumming have certain things in common, like grooves and fills that support the structure of the song.   Compared to many other instruments like guitar or bass, it's easy to learn to play drums!   Once you have some basic skills you can enjoy the world of music – these resources can help you go in whichever direction of musical style you prefer.
Improve your drumming skills!
Whether it's stick speed, intense energy, fast fills, double bass agility, versatility, or creativity, there is good news… any skills you want, you can have!   All you need to do is use efficient practice methods, and your efforts WILL pay off.   Just like any worthwhile goal, you must be committed to making it happen.   Get used to repetition, focus and flexibility as they will hoist your playing to new heights.   Drumming is an expressive art as well as an amazing sport!   Another bonus is that great technique on the drums is far easier to learn than many other instruments.
We can help you Play Drums
PlayDrumsNow's parent company, Intuitive Rhythms, is devoted to the advancement of music through educational tools.   Today's students and professionals can learn much easier with quick access to many drumming topics online, with the resources on this website.   Whether it's an app, percussion tutorial, full blown course or a helpful ebook, we strive to help you reach your goals.   Join us on a percussive journey toward creative freedom on the drumset!
Play Drums Now, not later!
Make the decision to get some BPMs into your bones, right now.   Get started on this path with the main "How To Play Drums" training program, which will advance your skills quickly and easily.   As your skills progress, you will have more fun, and others will be dancing uncontrollably to your beats!   So tune that snare and get ready to play!