"Welcome to Play Drums Now! I made this site to help drummers have more fun, by easily advancing their skills on the drumset. I am providing this site and its resources to help the overall drumming community connect and advance further and faster than ever before. Enjoy!!"
– Adam Randall, drummer / instructor
The Play Drums Now method
…is a simple and ideal approach to learning drums.
Its basic philosophy is a holistic approach that looks at the big picture of drumming goals, and
uses the most efficient path to achieve them all and create well-rounded drummers.
It is not just a philosophy, but also a complete collection of lessons and exercises (many of them are free!) to provide drummers with valuable materials for every step of their path. It accelerates the training process for drummers, to get you having fun fast. That is truly the main goal, because the magic ingredient of 'fun' is what I've realized activates the true potential in any musician. It also forces you to train well enough to use the drumset skillfully, because that's what causes the fun!!
The materials are unique and have TONS of innovations I came up with to speed up the process of training – and all these innovations have been field tested and proven successful, at the famous Colorado Music Institute.
Some questions to consider:
What kind of drum lesson material are you looking for?
Logically, the skill of drumming is a composite of many pieces which are different skills, knowledge, and experiences. Some of these skills are found in other training programs, but ALL OF THE VITAL DRUMMING SKILLS are found here on the Play Drums Now site. The most important skill to start with is being able to see an overview of the drumming path, to get you off the ground and onto stage eventually! The book 'How To Play Drums' was written to be the basic training program that gets drummers to the point of proficiency with the drumset, so you can explore and advance from there. This book describes the whole path in detail, and includes the knowledge and exercises you need to gain all the skills within the path!
What style of music would you like to play drums to?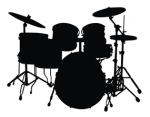 Each genre of music has its own style of drumming, which is easy to hear in styles like blues, reggae, and heavy metal, for example.   But fortunately, when learning each style, the skills tend to cross over well – all styles of drumming have certain things in common, like grooves and fills that support the structure of the song.   Compared to many other instruments like guitar or bass, it's easy to learn to play drums!   Once you have some basic skills you can enjoy the world of music – these resources can help you go in whichever direction of musical style you prefer.
Learn how to Play Drums Now, not later!
You've arrived at the right spot, most of the content here is free!   Learning how to play drums online can be lots of fun and even life-improving!   There are tons of free lessons and training books here, to help you gain drumming skills fast.   It's easier than you might think to learn to play drums with songs, and it's a blast learning all the basics of drumming!   This site has been geared toward helping drummers achieve rapid success since day one.
There are plenty of useful resources here that don't exist anywhere else.   These innovations are super useful, and have been field tested in a drum lesson atmosphere, by instructor Adam Randall.   Visit the drum lessons page for free articles, videos, and downloads for drummers and instructors!
Make the decision to get some BPMs into your bones, right now.   Get started on this path with the main "How To Play Drums" training program, which will advance your skills quickly and easily.   As your skills progress, you will have more fun, and others will be dancing uncontrollably to your beats!   So tune that snare and get ready to play!