How To Use Song Structure Maps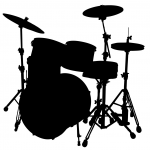 Here's a small collection of what I call 'song structure maps'. These maps can help you create effective drum parts quickly, that match a song's structure and sound good with the music.
Each of these 'maps' will show you the order of song sections with their names and lengths. These may not look the same as other transcriptions you may have seen, but they are incredibly useful for drummers and other musicians as well!
This is a work in progress, and I'll be updating this in the future with more song structure maps.

How To Read The Maps
This type of transcription is my style of notation that I have developed over the years while teaching and playing in bands, to help me learn songs quickly. Essentially, song sections are counted on the left (in measures), and named on the right.

EXAMPLE SONG STRUCTURE MAP:

Basic Layout Of The Maps

Numbers on the left indicate how many measures are in each section, and are counted in four-measure groups (4-4-4 means '12 measures'). They are always counted this way, so you see at a glance if there are any groups of a different size. This counting method also helps you avoid losing your place in the middle of a section.

The sections of the song are listed in order, so you can easily read the page as you listen to or play with the song.

Slashes are used to show different parts in a section. For example: 4 / 4-4 Verse 1A / 1B
This means 'Verse 1A' has four measures, and 'Verse 1B' has eight measures.

The time signature, feel, and average tempo are provided at the top of the map (tempo often fluctuates in songs). The feel is also indicated by the colored dot at the top left.

Details for the drum part are indicated by the star (*) with specific instructions.

Names of sections may not be the same as what the original artists used. This is not a problem for our purposes, since these maps are only intended to help you learn the order and length of song sections. Any names can be used, as long as they are consistent and clearly represent the song structure.
Glossary Of Song Sections:
'Vamp': Instrumental groove section, usually maintains same intensity throughout.
'Verse': Lyrics are the focus, and are usually different for each verse.
'Pre-chorus': Before chorus section, and different from chorus. Usually builds up to chorus.
'Post-chorus': After chorus section, usually a continuation of the chorus vibe.
'Chorus': Higher intensity than verse, lyrics are usually the same every time.
'Head': Essentially an instrumental type of chorus- a melody or riff is the focus. This section appears often in jazz, funk, and blues songs.
'Bridge': Different than verse and chorus, used as contrast in song.
'Pickup measures' are partial measures, used when the music starts before the first four-measure sequence of the song.
'Breakdown': Some instruments cut out during this section.
'Solo': Soloing instrument is the focus. Other instruments keep groove at an appropriate intensity level.
'Stop-time break': The song's tempo stops, for a non-counted length, then starts again after the break.
'Tag': The last vocal or instrumental line in a section is repeated, after the end of the section.
How To Use These Maps To Create Drum Parts For Songs
The How To Play Drums training program uses these maps to show you exactly how to create drum parts for songs, and includes maps for several popular songs to get you started. Chapter 7 in the main eBook and Mini eBook #6 have the training exercises and extra information for developing this skill. Here you will find detailed instructions on how to use 'song structure maps' to create a great drum part.

"How To Play Drums – The Ultimate Guide"
Read more…

Mini eBook #6
"Playing With Songs"

Read more…
These are songs which are really fun / productive for playing drums with. Song structure maps included so far:
Songs in 16th Note Feel
"On Time" – Disco Biscuits
"Goodbye" – Mutemath
"American Woman" – Lenny Kravitz
"Time To Go Home" – Michael Franti
"Show Me How To Live" – Audioslave
"Guns Are Drawn" – The Roots
"Scream With Me" – Mudvayne
"Bulls On Parade" – Rage Against The Machine
"Young Lust" – Pink Floyd
"This Velvet Glove" – Red Hot Chili Peppers
"Feels So Far Away" – Stabbing Westward
"Spotlight" – Mutemath
"W.M.A." – Pearl Jam
"So Cold" – Breaking Benjamin
"Lotus" – REM
"Could You Be Loved" – Bob Marley
"Follow" – Breaking Benjamin
"What Is Hip?" – Tower Of Power

Songs in 6/8 Time Feel
"Walk On The Ocean" – Toad The Wet Sprocket
"Never Tear Us Apart" – INXS
"Judith" – A Perfect Circle
"Dance With The Devil" – Breaking Benjamin
"45" – Shinedown
"Make It Right" – Alter Bridge

Songs in 8th Triplet Feel
"House Of Broken Love" – Great White
"Higher Ground" – Red Hot Chili Peppers
"Black Velvet" – Alannah Myles
"Flowing" – 311
"Beyond The Grey Sky" – 311
"Until The End" – Breaking Benjamin

Songs in 16th Triplet Feel
"You Are Mine" – Mutemath
"Day Of Celebration" – Santana
"Good Friday" – The Black Crowes
"Breathe You In" – Stabbing Westward
"Superstition" – Stevie Wonder
"Drive" – Incubus
Song Structure Maps
(last updated December 2012)
View PDF version (downloadable)

This is a work in progress – what is here is a decent start, and hopefully it will grow fast… feel free to contribute your transcriptions!! I will add them here. Corrections are welcome too!
Back To Song Contents
Back To Top
Another resource you may find useful on this site is the List Of Songs By Tempo page.
Afterthought: How similar are song structures?
Most song structures are usually very similar! Evolution of music has refined the construction of songs to please the human mind very well, which has led to a typical 'recipe' because the human mind is predictable. (Hence the similarity of all infomercials, visual ads, movie plots, magazines, food packaging, etc.) Just look at all the maps and you'll see that we humans prefer a brief introduction to the 'flavor' of the song, a story presented as the verse, the crux/main message/summary as the chorus, an additional new piece of the story (usually contrasting) as the bridge (which is only introduced after you've had a couple repetitions of the verse and chorus to absorb them), a restatement or next step of the verse and chorus, and some polite (or otherwise) conclusion. Another way to simplify this sequence is with the archetypal pattern A-A-B-A, seen used throughout history in poetry/music/performing arts compositions, where 'A' represents the verse-chorus and 'B' represents the bridge (or solo).
These pieces can be used whether a storyline is present or not, and often their essence is represented musically by instrumental parts that capture the essence of the 'storyline'.